Portfolio
Current Projects: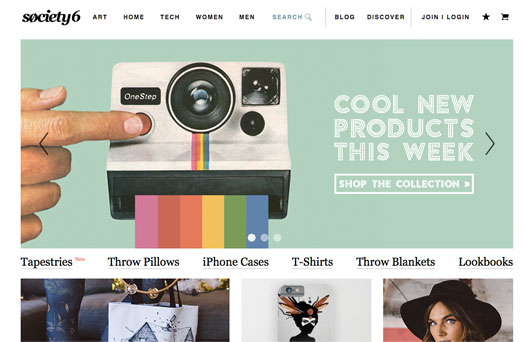 Company / Website:
Demand Media / Society6.com
Role:
Software Engineer
The Brief:
For the last 3+ years I've been working for Demand Media. During that time I have worked on some of their internet properties including eHow.com and Creativebug.com. Most recently I've been working on Society6.com, an eCommerce website where you can buy or sell artwork.
The Solution:
I've worked on a variety of projects while on Society6.com. These include 1) mobile optimizatoin of desktop pages; 2) builidng an artwork uploader JavaScript application using React.js + Redux; 3) website bug fixes; 4) integrating new UI changes into a PHP MVC framework.
Past Work Projects:
For the following projects, I worked as a lead front-end developer. Often I worked on a team with a back-end developer and a lead designer to produce beautiful, creative and engaging websites.
Personal Web Projects:
The following personal websites are ones I built on my own from scratch. I produced all the design work, typography and development for these sites.
Creative Projects:
The following work is not something I do for a living (anymore) but I included it as a glimpse into my creative past. Projects include Flash animations I did while at Sony Pictures Television, video editing and motion graphics projects. You can click them to view the project.