Apple & Cheddar Soup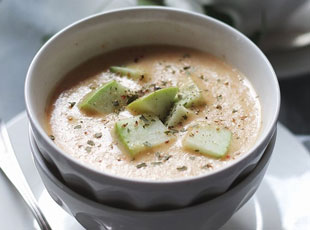 Cheesy, creamy and delicious Apple and Cheddar Soup made with tart apples and shredded cheddar cheese.
Directions:
Step 1.
Melt butter in a large saucepan or soup pot.
Step 2.
Add onion and carrot; cook over medium-low heat for 7 to 8 minutes, or until vegetables are tender.
Step 3.
Stir in flour and chili powder.
Step 4.
Slowly add broth and continue to stir until everything is well combined.
Step 5.
Add apple to soup and cover.
Step 6.
Reduce heat to a simmer and continue to cook for about 10 minutes, or until soup is thick and apples are tender. Stir occasionally.
Step 7.
Slowly stir in apple juice and shredded cheddar cheese.
Step 8.
Continue to cook and stir until cheese is completely melted.
Step 9.
Remove from heat.
Step 10.
Let cool for 2 minutes.
Step 11.
Transfer to a blender and blend until smooth.
Step 12.
Taste for salt and pepper.
Step 13.
Ladle soup into bowls and garnish with diced apple.